A TRIBUTE TO A BROTHER AND FRIEND
It is with a heavy heart, that we write about the passing of Woodson Edward Mabry Jr., a beloved Fraternity Brother. Known by his Phi Delta Chi Brothers as Ed. He passed away, May 8, 2021 at home after a hard-fought battle with pancreatic cancer.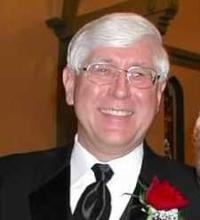 Ed entered the University of Illinois College of Pharmacy - Chicago in the fall of 1966. He pledged and was then initiated as a Brother of the Alpha Sigma Chapter (AE 334) in 1967. While attending pharmacy school, he met the love of his life and classmate JoLeen Vidic. The two were married on September 12, 1970 in Pekin, IL.
Ed graduated in 1970 with a Bachlor of Science Degree in Pharmacy. He went on to attain a Masters Degree, after which he did a hospital residency. During his 41 year career, he spent the majority of his time as the Director of Pharmacy at the hospital now known as OSF Heart of Mary Medical Center in Urbana, IL. &nbsp Ed retired in 2014 but continued to be very active.&nbsp He avidly volunteered with the Senior Health Insurance Program (SHIP) at the hospital and at his church's food pantry.
Ed will be remembered for his love and pride of family. Our sympathies go out to the family and friends of our Fraternity Brother Ed Mabry Jr.
Remember our motto "Alterum Alterius Auxilio Eget".&nbsp We know that Ed lived by those words - Each Needs the Help of the Other.
The Alumni Chapter has included the name of Woodson Edward Mabry Jr. as part of our"In Memory" page on this WEB site. In this way his name will always live on in the hearts of his Phi Delta Chi Fraternity Brothers.

The memorial scholarship is presented each year by the Alpha Sigma Alumni Association to aid and assist a third year pharmacy student entering the last year of Pharmacy school.

(NOTE: The first presentation of the Phi Delta Chi Memorial Scholarship took place at the College of Pharmacy, March - 2004)